The right piece of software can be a powerful force for efficiency in your business. Unfortunately, the perfect program might not exist – yet.
Computers have revolutionized business efficiency by providing automation, organization, and a generally streamlined approach to existing processes. Searching a customer or inventory database just takes a few clicks, and that's always going to be quicker, easier, and cheaper than digging through a stack of old receipts or calling in to the warehouse for someone to check a specific shelf.
Custom software for your Jacksonville business
The good news is that you aren't limited to choosing from the software that already exists. If your business has specific needs and you can't find software that provides that functionality, we'll be glad to help out with custom design and development.
JacksonvilleSEO.net produces custom software every day, and it's not just web based applications we deal with! If you need desktop software designed to perfectly work with your business process, we've got experience doing just that for local Jacksonville businesses.
That's right: we can quickly set up a customer and inventory management system for your local business. Every field will be customized for your specific needs – and you won't have to waste time with unnecessary options or irrelevant data fields.
Here's an example of a recent custom program developed for a local Jacksonville business: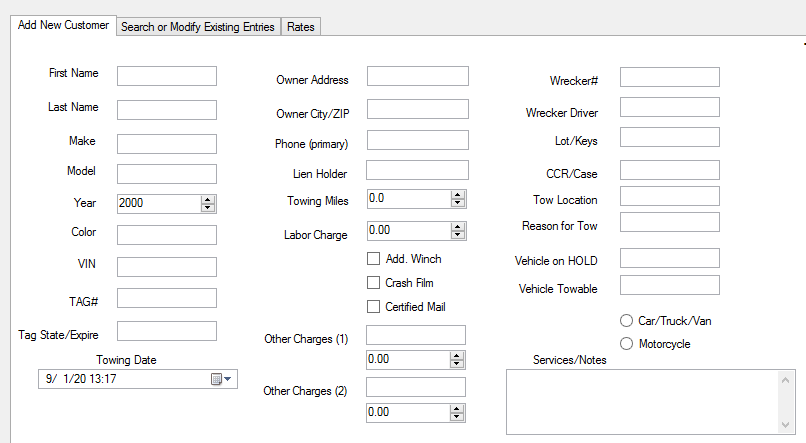 Each field was programmed through consultation with the business owner – and by the time the software project was finished, they had a new system to track and store customer records.
Isn't custom software expensive?
Generally speaking, customized software isn't cheap. But it's important to remember that software that hasn't been customized can also be very expensive.
The client in our example above was looking for new software to run his local towing business. They had considered some ready-made software options, but the monthly subscription cost was almost $400!
While the commercial software looked great, it also had a lot of features and options that they didn't plan on utilizing. The software was powerful, but it was expensive and more complicated than what they needed. Training staff to use the new software would also surely incur additional costs.
Instead, we were able to design and develop a custom software solution for one flat fee of $3,000. Rather than paying a monthly subscription indefinitely and spending nearly $5,000 a year, they were able to own the exact piece of software that was designed for their business. It will pay for itself in just 8 months when compared to the subscription software, and the business will be able to use this for years (if not decades!)
Centralized database hosting
Sometimes, a local piece of software isn't sufficient. What do we mean by that? Well, if the database is stored on the same computer that the software runs on, any changes made on that machine are only updated on that machine.
Companies with multiple administrative workers may need a centralized, online database. This way, if one employee is working at home to pull data records, they'll see all the latest changes that have come in from the employees at your office!
In addition to some of Jacksonville's fastest web hosting, we can also host your databases in a centralized, online location. It's just like having the power of the cloud – without all the extra complications and expenses that come with it!
Legacy system support
Sometimes you've already got the perfect software or system – but the years roll on and that PC it's running on might be struggling. There are a variety of ways we can help to support your legacy systems:
PC repair and/or upgrade
Data migration
Software conversion
And sometimes, you might just need someone to take a look at that old technology to make sense of it!
Local Jacksonville developers
And of course, our philosophy at JacksonvilleSEO.net is to focus on local customers and serve them with local workers. We've got in house developers who are experts with LAMP stacks, C#, VBA, PHP, and Python. We've also got connections with .NET developers and professionals who build Windows stacks with noSQL.
So what are you waiting for? If you're looking for custom, yet affordable software, give JacksonvilleSEO.net a call today! We're here and we're ready to help build the systems your business needs to thrive!