I've mentioned before and I'll mention again: any time you hire an SEO or internet marketing company, be sure to find some examples of work they've done in the past. If they're able to do the things they claim to do, they should also have some evidence of them doing it.
With that in mind, I'd like to share one of JacksonvilleSEO.net's favorite success stories of our local SEO work.
A business idea with no customers
The client in this case is actually another Future Florida Solutions brand: Jax Mobile Welding. While we'd had a few customers for our welding services, we also knew we'd need a website to increase our sales to a more sustainable level.
Our welders and our mobile rig were all ready to go, and we needed new clients. Let's take a look, step by step, how we turned this idea in to one of the top Google results for a mobile welder in Jacksonville:
Stage 1: Build a website
Frankly, every business needs their own website. Even if it's just a brief description of the company and information about how to contact them, it's absolutely critical to have some sort of online presence.
We set up a basic WordPress website on one of our company's high speed Linode VPS instances. All installation was performed manually to ensure optimization of critical performance features. Before we went any further, we wanted to make sure the hardware and software running this website would always be as fast and as stable as possible.
Once we got the load times in under 1 second, we were pretty satisfied with the infrastructure and ready to populate the website: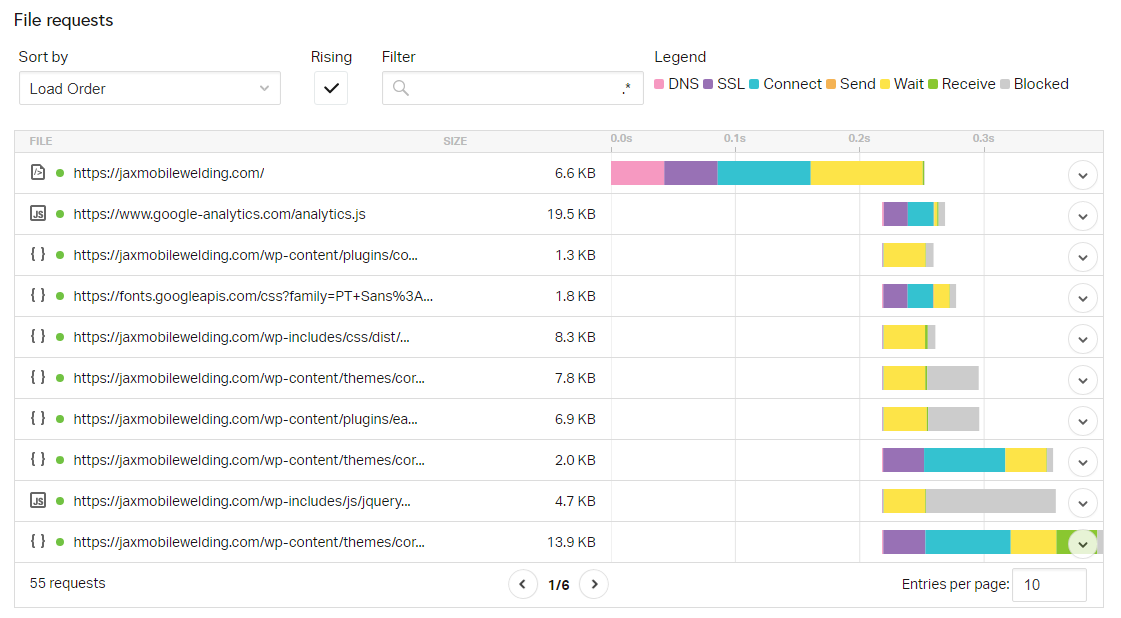 Step 2: Create content
A fast web server means we get to be a little bit more creative with content. For this project, we wanted to focus on images and video of our welders on the job site, as well as the finished product. This allows us to showcase exactly the type of projects we can handle, and helps potential customers understand the process and what to expect in a way that words just can't.
Although I'm not much of a welder, I rode out with the truck a few mornings to help out and take some photos of the process. The experience prepared me to write about the content and to understand the keywords we'd be targeting in our SEO campaign. When I couldn't make it out, or the truck was already full from more experienced workers, the head welder would snap a few shots and forward them to be for website inclusion.
Our focus on site design was minimalism. The front page includes links to all the essential pages, and an image gallery of our work. The essential pages are:
The contact form
The about us page
The blog
Nothing else. No other bells and whistles: just an image gallery of our work, and links to more information. The blog was quickly populated with about 15 pages worth of content that centered on images and videos of various projects. The written content within the blog post expands on the details of those projects in a way that's SEO friendly and mindful of the various keywords that customers who want similar services might use to find our business.
Step 3: Verify Google Business listing
At this point, most SEO agencies would have spent a lot more time promoting and marketing their site than we had. We'd been working on the website for more than a month and we'd spent 100% of our focus on building up the system and populating the site with content.
But what about links? Well, what about them? Links are great, but Google advises against trying to go out of your way to acquire them. They're supposed to be a natural signal of endorsement – not something you can force.
So we went and got exactly one link: our verified Google Business listing. Now "just one link" might sound like a minor task, but we made this an entire phase of the SEO project. We set up our location and visibility in Google maps with an additional portfolio of two dozen images, and we spent a little bit of time building up that Google business profile.
Once the location and phone number were verified in Google, the phones slowly started ringing. Then they started ringing a lot.
Step 4: More local business than we can handle
With the website and Google profiles produced and populated with content, there was a quick rise in the number of phone calls we received. Each job provided a new opportunity to take photos and produce content, and all of this new content pushed our site even higher in the search engine results.
Before long, we were right at the top: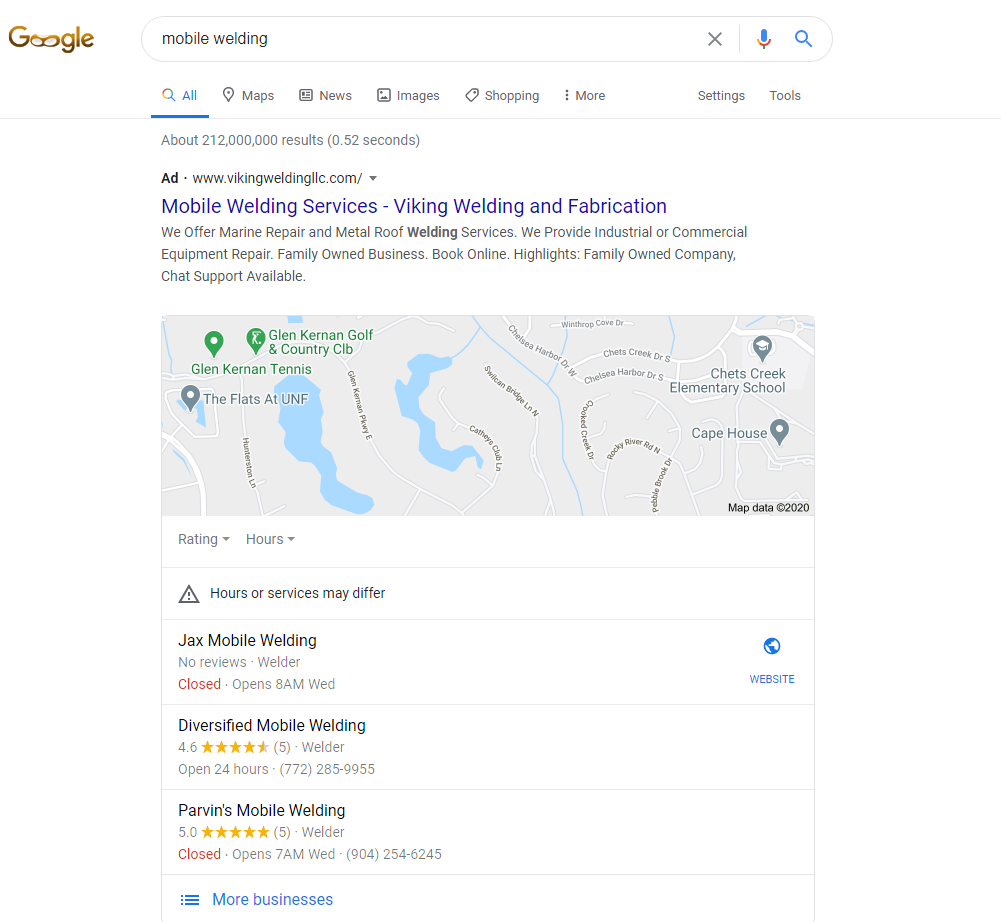 The first listing is a paid advertisement through Adwords, but Jax Mobile Welding was showing up in the first spot of the map listings. It is right near the top of the organic SERPs, as well: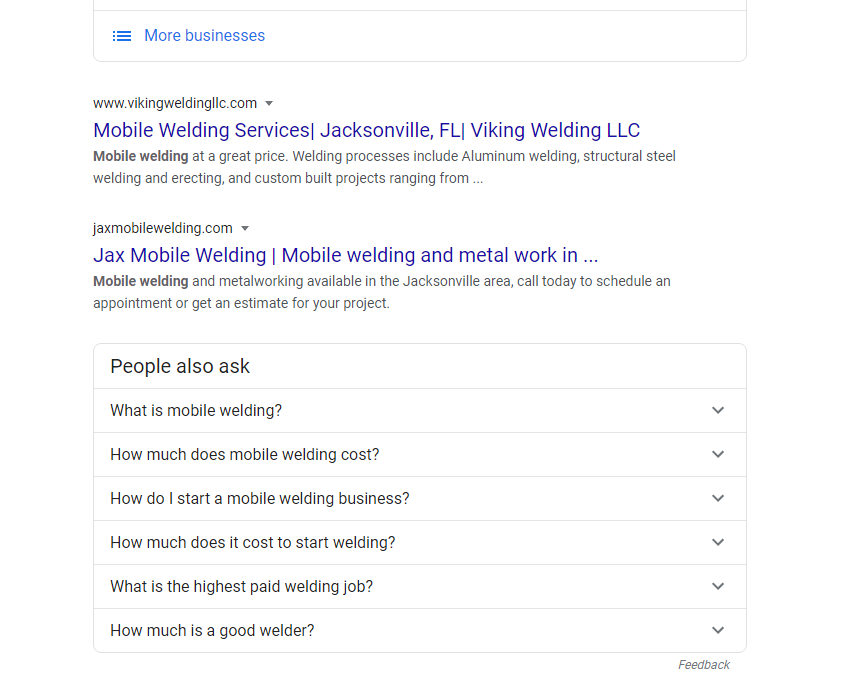 The pace of the calls and emails kept increasing. More business came in every day. Each week seemed busier than the one before. Unfortunately, we started to have a different problem: We've only got one mobile welding rig!
Lessons from success and failure alike
People always talk about learning from one's mistakes, but it's important to learn from victories and successes, too. In this case, our SEO campaign was very successful, but the company didn't necessarily have the resources to quickly scale up to meet demand. As a result, we've had to turn down some job offers and even direct some work to companies who would normally be competitors.
I'd personally emphasize two lessons from this experience: